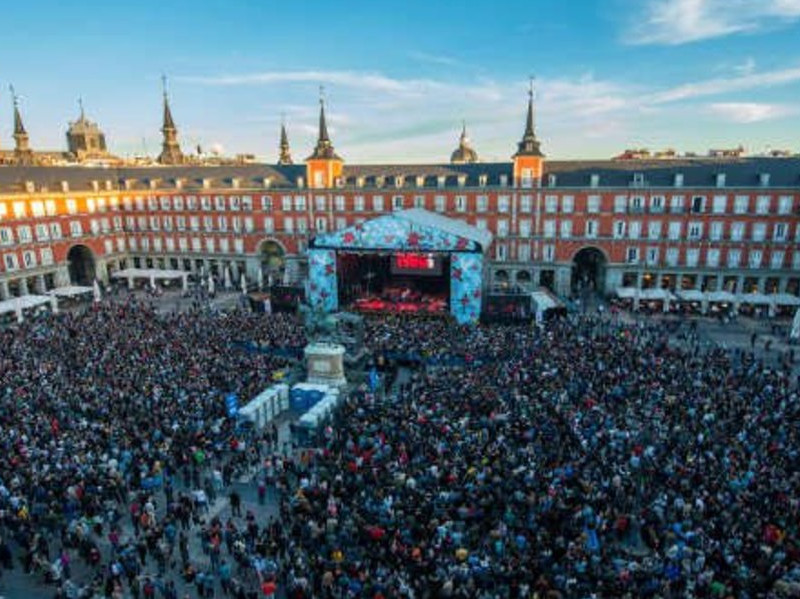 May, the month of festivals in Madrid
In May we celebrate two festivals, Community's Day on May 2nd and San Isidro (Saint Isidore), patron saint of Madrid city, on May 15th. Both are bank holidays and, depending on the day of the week, make a long weekend that many Madridians use to go on holidays.
San Isidro's week is full of events, shows and a wide range of activities for all ages, in a number of landmarks in Madrid city geography. For more info, check out the City of Madrid's official site.
However, the most remarkable difference is that we eat them cold, at room temperature, much better next day they are made. Regarding the time of the day, almost any moment is suitable for eating torrijas, not only for breakfast. As a matter of fact, they are considered a dessert in many houses and restaurants.
What to eat in San Isidro
To enjoy the traditional sweets made for this festival, we invite you peek in the many patisseries and bakeries in Madrid or, much better, make your way to the San Isidro Park, where Madridians gather to enjoy rosquillas y limonada (doughnuts and lemonade) laying down on the grass, enjoying the good weather, food and entertainment of this festival. Also known as Pradera de San Isidro (San Isidro's meadow) it is a big park where a fairground is put up with food stands, attractions and a big stage for live shows.
San Isidro doughnuts
There are three traditional types of this doughnuts, all with the same base dough of flour, water, eggs, olive oil and baking powder. Thesis baked in the oven and topped with different icings:
Las tontas (the dumb), plain doughnuts with no topping. They are the driest and dullest of all, hence their name, since they only have a thin egg coating. They usually have a slight anise flavor. Some sources place their birth in the Middle Ages.
Las listas (the smart) also be known as those of Aunt Javiera, since it is believed that this lady from Fuenlabrada, a town near Madrid, sold them all around Madrid during the festivals. They are like the Tontas but topped with an icing of sugar and lemon.
Santa Clara, originated in a local monastery where the nuns make them for ages. Again, the same base doughnut, with a topping of sugar and egg whites.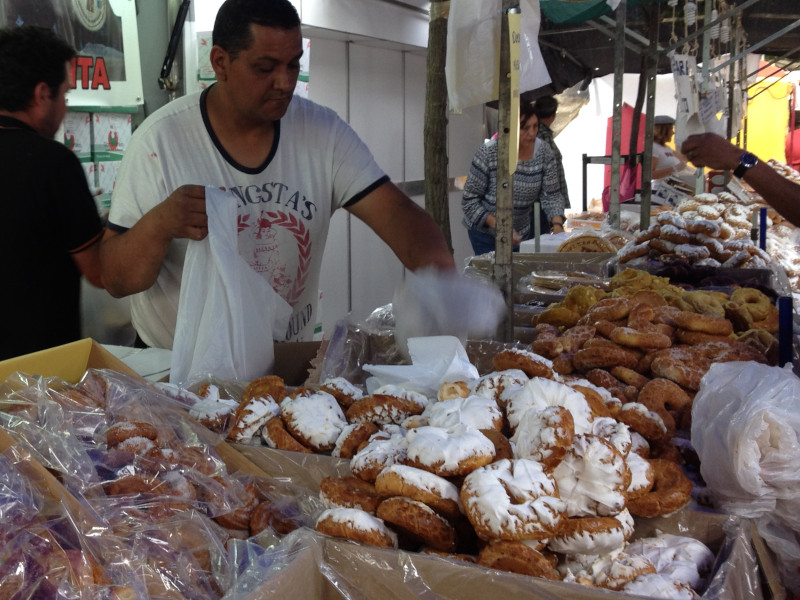 Limonada (lemonade)
A word of caution, this lemonade is alcoholic! For the same purpose of sangria, this wine cooler is traditionally made only for the festivals in Madrid.
It is made with white wine, lemon, golden delicious apple, sugar, cinnamon, lemon juice and water. The fruit is macerated in wine for a number of hours. Water and ice cubes are added before serving.
Entresijos y gallinejas
When it comes to the street food, you will see many stands serving a varied set of pork cuts and sausages like chorizo, blood sausage, fresh bacon, skewers… all of them grilled at the back of the stand. This is something easy to find all over Spain festivals.
To round the no-so-healthy menu, you should not miss trying a deep-fried meat that divides Madridians into two parties, the ones in favor and the ones that can't stand them. However, they both agree on something: the unbearable smell they produce as they are fried.
I am talking about the gallinejas and entresijos, which consist of lamb small intestine (gallinejas) and the tissue part of the peritoneum attached to them (entresijos), all of them deep fried and huge pans of stinky, dusty oil. Nowadays they come solely from suckling lambs, but in the past, they referred to any organ meat from poultry or sheep.
A quick thought about street food in Spain
I believe most Spaniards would agree with me that for many of us, especially of a certain age, the words "street food" are associated to memories of food stands in fairs offering tasty, yummy yet greasy, unhealthy bites during endless nights having fun in Summer festivals across Spain. I hope you enjoy taking part in our local street food view, either in Madrid festivals or elsewhere in Spain.